It's paw-ty time!
We love dogs at Festival Place – and if you have a well-behaved furry friend who'd love to help you sniff out some great bargains, we'd be delighted to welcome you. Please read our guidelines below to ensure your visit is a pleasure for both you and our other centre visitors.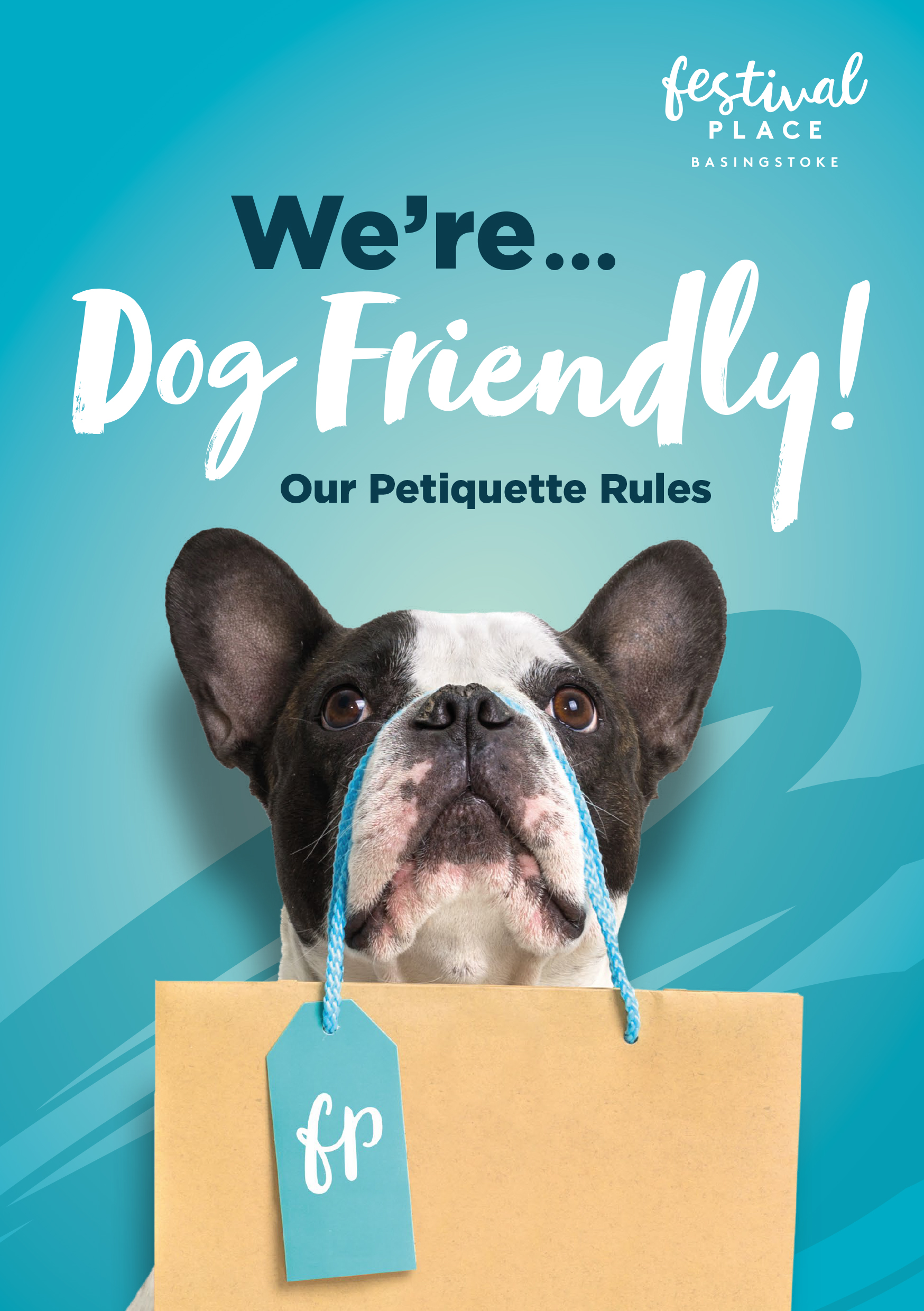 Festival Place is a dog friendly shopping centre, but your dog is your responsibility whilst visiting. Please ensure you follow our guidance below.

Please do not bring anti-social dogs into the centre
Your dog must be kept on a non-extendable lead at all times
Please remember to always clean up after your dog and take any mess away with you
Please alert FP staff in the event of a fouling incident
Please do not leave dogs in cars
For their own safety, please do not let your dog on the escalators.
Your dog should not be left unattended or unsupervised at any time.
Large groups of dogs aren't permitted, please limit to 2 dogs per person

Please respect individual retailers' policies on dog admittance – look for dog-friendly stickers in their windows
Festival Place reserves the right to ask visitors with dogs to leave if we feel our guidelines are being breached
Be mindful - don't let your dog be a nuisance by barking at or pestering other visitors.

If you have any questions, please just ask a member of the FP team



How do you know which stores are dog-friendly? Dog-friendly stores will display a sign in their window! We have over 90 stores taking part in the scheme!

Here's our current list of stores who DON'T accept dogs. Please check with individual retailers for the latest update.
3 Store



Ann Summers
Apple Nails
Aray
Discovery Centre
Clarks
Costa
Delta Cars
Escape Hunt
Flip Out
Go Go Gadget
Greggs
HSBC
Iceland
Kokoro
Laser Clinics
Lloyds Bank
M&S
Milan

Moss Bros
Mr Munch
Mr Simms
Nandos
News Centre
Next
Pizza Hut Delivery
Poundland
Santander
Savers
Shakeaway
Sk:n
Specsavers
Spicy Tadka
Sports Centre
Sports Direct
Superdrug
Tesco
The Angel
The Entertainer
The Granary
Vision Express
Vue
Warren James
Wimpy
Top Tips from The Lupo Academy


Here are Tracey from The Lupo Academy's top tips for happy shopping with your dog:

Set your dog up for success and go at a quiet time at first. Before the shops open is perfect
Go slowly, take your time. Your dog needs to adjust to slippery, shiny floors, bright lights, shop windows, escalators and things like the tannoys and other unfamiliar sounds
Let your dog have the chance to check things out, let them sniff things, give them time to watch and take in their surroundings
Be careful with automatic doors and lifts, your dog may not be familiar with these so pass through carefully reassuring your dog if needed
Take some yummy treats with you so you can make positive associations to the weird novelty they will see Be mindful of spillages including dropped food and cleaning products. Dogs are naturally scavengers so will be drawn to potentially harmful litter
Make sure you have poop bags and tissues to clean up after them just in case
Check the equipment you are walking them in is secure. Shopping centres are not the place for flexi leads!
If your puppy is nervous around people, pass wide and it's ok to tell someone they can only admire your puppy from afar until their confidence grows.
Give other dogs space, not all dogs like to meet others and the shopping centre is not the place for play