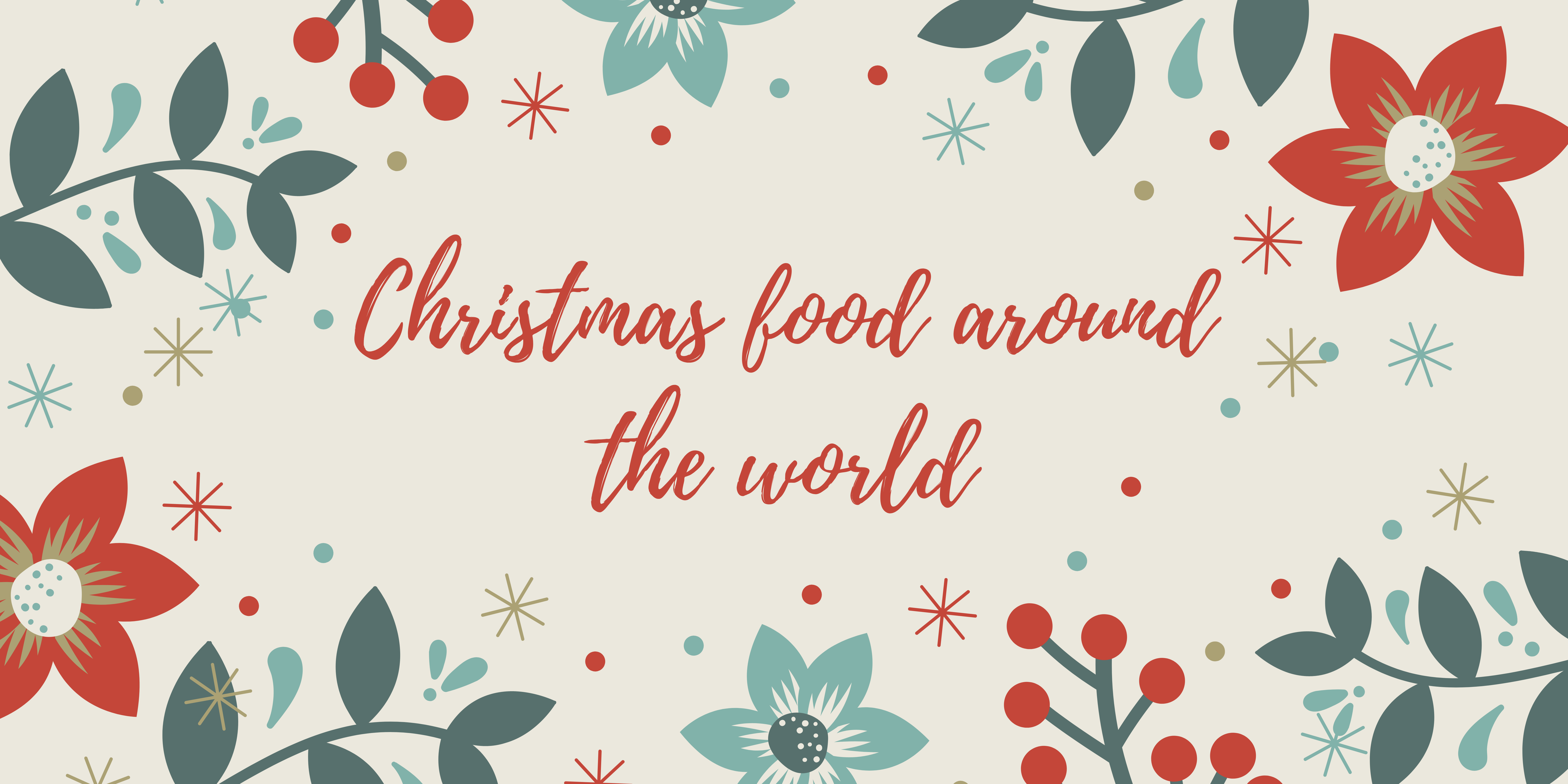 What's your favourite Christmas tradition?
Do you hang stockings, or put out a pillowcase? Is there a satsuma or a bag of chocolate coins in the toe? Do you always eat turkey on Christmas Day?
From leaving out mince pies and carrots for Santa and his reindeer to pulling Christmas crackers, our Christmas traditions are what make this time of year so magical.
Christmas is celebrated differently all around the world, but lots of the most treasured traditions are centred on food – and we have a global food offering here at Festival Place that will help you enjoy Christmas cheer from the country of your choice.
We're taken a look at how Christmas is celebrated in other countries, and let you know how you can share their festive joy right here with us!
Joyeux Nöel from France!
It may be just a short hop across the Channel, but French Christmas traditions can seem miles apart from ours.
Many French families eat their main Christmas meal late on Christmas Eve. The Réveillon de Nöel marks the beginning of Christmas and, in Provence, there are 13 different desserts after the main meal!

Children leave their shoes out instead of stockings, hoping Père Nöel will fill them with little presents and sweets.
In the north of France, this is done on the evening of December 5, ready for St Nicholas Day on the 6th.
Join in the French celebrations at Côte Brasserie by booking in for the Taste Noel menu (November 30 – December 24).
Tuck into parsnip soup with crumbled chestnuts and truffle oil followed by turkey paupiette with silky dauphinois potato gratin, or butternut squash, mushroom and goat's cheese pithivier with carrots, braised red cabbage and a creamy mushroom sauce. Indulgent desserts include warm chocolate fondant with salted caramel and cinnamon ice cream, brioche bread and butter pudding, and winter spiced creme brûlée. 


Feliz Navidad from Spain!
Nearly everyone in Spain plays the Loteria de Navidad, which is the Spanish Christmas Lottery.
Held on December 22, El Gordo (the Fat One) marks the beginning of the Christmas festivities, and thousands of prizes are won by people all over the country.
Christmas Eve is the most important gathering of the year for Spanish families, who meet for Nochebuena, which means Good Night in Spanish.
The meal ends with Christmas sweet treats of turrón – nougat made with toasted sweet almonds and honey – marzipan, and polvorones. 

But the feasting doesn't end there; there's also a big meal on Christmas Day and more on New Year's Eve, New Year's Day and Three Kings Day on January 6.
Santa Claus doesn't visit Spain – instead, children receive presents from the Reyes Magos (the Three Kings) on January 6.
The day before, there's a big street parade known as La Cabalgata de Los Reyes Magos, which is one of the highlights of the festive season.
You can have your own Feliz Navidad at Tapas Revolution, where the festive set menu includes traditional favourites like Spanish seafood soup, calamari, ham croquettes and plenty of veggie options such as braised chickpeas and stuffed peppers.
Finish with a traditional almond cake or cinnamon churros. Pre-book one of their drinks packages, such as three jugs of traditional sangria for £50.
Barka da Kirsimati from Nigeria – in just one of over 500 spoken languages!
Christmas in Nigeria is a huge family event, often starting with a party on Christmas Eve that will last all night long. Then on Christmas morning they visit the church to give thanks.
Homes are decorated with woven and unwoven palm fronts, Christmas trees and lights, and children love setting off firecrackers.
As well as turkey, a traditional festive feast in Nigeria may include beef, goat, sheep, ram or chicken with pounded yam, jollof rice and vegetable salad.
Join in the Nigerian Christmas celebrations at Afrizi, where you can feast on fried plantain, authentic puff puff pies, delicious mutton, chicken or tofu stews, and spicy Jollof rice.
Buon Natale from Italy!
Italians start celebrating Christmas on December 8, the Day of the Immaculate Conception.
Meat is avoided on Christmas Eve, when Italians sit down to The Feast of the Seven Fishes, based around seafood rather than meat.
This is to prepare for almost an entire day of feasting on Christmas Day, when traditional dishes like pasta in brodo (pasta in broth), roasts and desserts like panettone are served.
Babbo Natale brings presents to children on Christmas Eve, but the old lady La Befona traditionally delivers gifts on January 6, the day of Epiphany.
The Festivo set menu at ASK Italian is packed with twist-on-a-classic dishes.
Starters include festive arancini filled with four cheeses and cranberry pieces finished with a chilli jelly, mains include the Pasta Fresca Christmas Carbonara with crispy pancetta and sprouts, and puddings feature a snowcapped profiterole grande inspired by Monte Bianco, the highest point in Italy.
Merii Kurisumasu from Japan
In Japan, Christmas is known as a time to spread happiness, rather than as a religious celebration, and Christmas Eve – which is seen as the most romantic day in the Japanese calendar – is often celebrated more than Christmas Day.
While we're tucking into our turkey and trimmings, Christmas lunch in Japan is... KFC! Around 3.6 million families sit down to a party barrel of crispy fried chicken on Christmas Day.
This is followed by a Japanese Christmas cake of strawberry shortcake, sometimes with chocolate snowmen on top.
You may not find crispy fried chicken at Wagamama, but their delicious chicken katsu curry has to be just as good – in our opinion, it's even better!
You'll also find hearty soups and scrumptious sushi at Kokoro – or tuck into the sticky chilli chicken, with sweet, savoury and succulent flavours in every bite!
Feliz Natal from Latin America
Christmas celebrations in Latin American countries include Las Posadas in Mexico, which lasts for nine nights and sees children processing through the streets dressed as sheep and adults in prayer, carrying images of Mary and Joseph.
Each night ends with a feast of hot punch, bunuelos (fried sweet dough) and classic pinatas.
In Puerto Rico, La Parranda Christmas caroling sees singers go from house to house knocking on doors and asking for lodging.
If the group is invited in for a posada party, they all sing together and then the whole group moves on to the next house.
In Brazil, families and friends exchange gifts on Christmas Eve and eat a traditional Christmas dinner at midnight made up of turkey, roast beef, fried bread with sugar, codfish dumplings and panettone.
The next day, families gather again for lunch, where they eat leftovers from the previous night.
At Las Iguanas, you'll find lots of Latin American favourites on the fantastic Christmas menu (November 14 – January 10).
Enjoy dishes like a crispy beetroot tortilla parcel stuffed with sweet potato, butternut and chickpea chilli, rice, refried beans, crunchy slaw and cheese; prawns cooked in a spiced ginger, cassava, pepper, coconut and lime sauce; and jerk BBQ pork belly with charred sweet potatoes, crispy chilli and onion, salsa criolla and shredded greens.
Bottomless bunch is also available to book every day excluding Christmas Day.
Śubh krisamas from India
Churches are decorated with poinsettia and candles for Midnight Mass, which is a very important service for Christians in India.
The whole family will walk to Mass and afterwards they'll enjoy a delicious feast and exchange presents.
Instead of a traditional Christmas tree, a banana or mango tree is decorated, and Christmas Baba will deliver presents to children from a horse and cart.
Spicy Tadka has created a special menu to celebrate Christmas with authentic Indian delicacies to delight the tastebuds.
Start with mixed vegetable or meat platters, followed by mains like butter chicken, Goan fish curry, or Railway lamb curry with mixed rice and breads, and finish with a sweet ending - perhaps Indian kulfi or coconut ice cream.