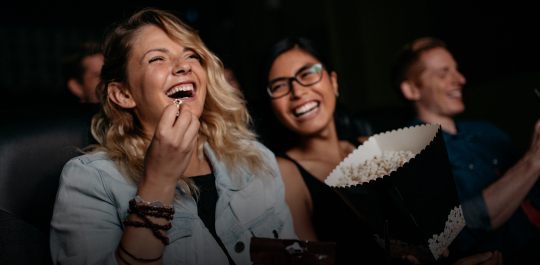 THE VUE – December films
There's nothing like a good film at Christmas – whether your go-to film is Elf, Home Alone, Love Actually or Die Hard (is it or isn't it!).
As a special treat, you'll find all these plus other Christmas favourites on the big screen at Vue Cinema this month, so grab a bucket of popcorn or tray of nachos, settle back in your leather recliner, and watch the festive fun unfold.
Here's our round-up of all the new releases, live performances, long-running films and Christmas favourites you can see at Vue this month – and don't forget all the great restaurants and bars you can visit at Festival Place before or after your big screen experience.
December 1
A Christmas Carol – A Ghost Story
Mark Gatiss stars as Jacob Marley in his own 'Irresistibly theatrical' retelling of Dickens' classic winter ghost story.
December 3, 4, 10, 11
CBeebies Panto: Dick Whittington and His Cat
Recorded in front of a live audience at Eastbourne's Congress Theatre, the show will be bursting with catchy songs, festive fun, and a host of CBeebies stars, making it a theatrical treat for the whole family.
December 3, 4, 10 & 11
The Nightmare Before Christmas
Jack Skellington, king of Halloween Town, discovers Christmas Town, but his attempts to bring Christmas to his home cause confusion.
December 3, 4, 10, 11, 18, 20, 22, 23, 27, 29
The Muppet Christmas Carol: 30th Anniversary
The Muppet characters tell their version of the classic tale of a miser's redemption on Christmas Eve.
December 3, 4, 10, 11, 17, 19, 21, 24, 26, 28
Elf
Buddy the Elf travels to New York to find his father in this Christmas favourite.
December 3, 4, 10, 11, 17, 19, 21, 24, 26, 28
Home Alone
When Kevin decides to defend his home against burglars at Christmas, mayhem ensues.
December 8
The Royal Ballet: The Nutcracker 2022/23
A sparkling festive treat for all the family.
December 9
The Holiday
Two women swap homes in each other's countries, where they each meet a local guy and fall in love.
December 10, 11, 15, 18, 20, 22, 23, 27, 29
Home Alone 2: Lost in New York
The action moves to the Big Apple as Kevin takes on his old arch enemies.
December 16
Aquaman 2
Jason Mamoa returns for this all-action fishy sequel
December 16
Avatar: The Way of Water
Set more than a decade after the first film, we join Sully and his family for a new adventure.
December 16
The Grinch
On the outskirts of Whoville, a green, revenge-seeking Grinch plans on ruining the Christmas holiday.
December 22, 23
Love Actually
Eight very different couples deal with their love lives in the month before Christmas.
December 23
It's A Wonderful Life
James Stewart stars in this festive favourite.
There's still time to catch:
Black Panther: Wakanda Forever
The Wakandans fight to protect their nation from intervening world powers in the wake of King T'Challa's death.
Amsterdam
Period comedy thriller with a starry cast led by Christian Bale, Margot Robbie, John David Washington and Anya Taylor-Joy.
Confess, Fletch
After becoming the prime suspect in multiple murders, Fletch (John Hamm) strives to prove his innocence in this fun crime comedy.
The Menu
Nicholas Hoult, Ralph Fiennes and Anya Taylor-Joy star in this black comedy horror.
Glass Onion: A Knives Out Mystery
Daniel Craig is back as famed detective Benoit Blanc travels to Greece for his latest case.
Bones and All
Timothee Chalamet and Taylor Russell star in this road trip film about teen cannibal runways.
Strange World
Disney animated action adventure about the Clades, a family of explorers on a crucial mission. Starring Jake Gyllenhaal, Dennis Quaid, and Lucy Liu.
She Said
The story of New York Times journalists Jodi Kantor (Zoe Kazan) and Megan Twohey (Carey Mulligan), and their investigation into Harvey Weinstein.
Ticket to Paradise: George Clooney and Julia Roberts light up the screen in this rom com.
Bullet Train: Starring Brad Pitt, Joey King and Aaron Taylor-Johnson.
Don't Worry Darling: Harry Pitt, Florence Pugh and Olivia Wilde.
Minions: The Rise of Gru: Steve Carrell's supervillain before he was famous
Mrs Harris Goes to Paris: Lesley Manville as the cleaning lady determined to buy a Dior gown
Top Gun Maverick: High-flying thrills with Tom Cruise
The Woman King: With Viola Davis and John Boyega
Lyle, Lyle, Crocodile: Musical comedy based on the children's book about a crocodile that lives in New York.
Black Adam: Superhero film based on the DC Comics character starring Dwayne Johnson, Viola Davis and Pierce Brosnan.
The Banshees of Inisherin: Two lifelong friends find themselves at an impasse when one abruptly ends their relationship, with alarming consequences for them both.
Bros: Two men with commitment problems attempt a relationship.
Triangle of Sadness: Wickedly funny Palme d'Or winner about a cruise for the super-rich that sinks, leaving a group of survivors trapped on an island.