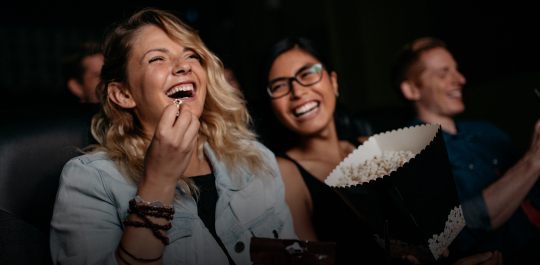 We're officially in film award season! The Golden Globes took place in California last month, with Steven Spielberg's The Fabelmans scooping the award for Best Film.
The American drama – based on Spielberg's own childhood – is also in the running for seven Oscars at the 95th Academy Awards ceremony in March, and you can catch it for yourself at The Vue this month.
Other Oscar-nominated films on the big screen this month include Avatar: The Way of Water (Best Picture, Visual Effects), Tar (Best Picture, Original Screenplay, Directing, Cinematography, Actress in a Leading Role) Puss in Boots The Last Wish (Animated Feature Film), and The Whale (Actor in a Leading Role, Actress in a Supporting Role).
There's plenty more due on the big screen in the coming months, with new superhero films, explosive action, spine tingling horror and some new visits to old franchises - perfect to enjoy with a long drink and a bucket of popcorn as you recline in one of the super-comfy leather recliners.
Big films to look forward to include the new Indiana Jones, Guardians of the Galaxy Vol 3, Dune: Part Two, Aquaman and the Lost Kingdom, The Marvels, Scream 6 and Lethal Weapon 5, as well as a Hunger Games prequel and Magic Mike's Last Dance.
Here's our round-up of all the new releases, live performances, and long-running films you can see at Vue this month.
February 3
Knock at the Cabin
While holidaying at a remote cabin, a girl and her parents are taken hostage by armed strangers who ask them to make an unthinkable choice to prevent the apocalypse. Starring Dave Bautista and Rupert Grint.
Puss in Boots: The Last Wish
Our daring outlaw discovers his passion for adventure has taken its toll and sets out to find the Last Wish and restore eight of the nine lives he has already lost.
The Whale
A reclusive, morbidly obese English teacher attempts to reconnect with his estranged teenage daughter. Starring Brendan Fraser.
February 10
Magic Mike's Last Dance
Channing Tatum returns for a last fling as magic male stripper Mike Lane, this time heading to London with Salma Hayek.
Titanic
Celebrate the 25th anniversary of Jack and Rose's timeless love story this Valentine's weekend (we still think there might have been room on the door...)
February 17
Ant-Man and The Wasp: Quantumania
Enter the Quantum Realm as Ant-Man Scott Lang (Paul Rudd) and the Wasp Hope Pym (Evangeline Lilly) are transported there along with their family to face a new foe.
The Son
Hugh Jackman and Laura Dern in this drama about a family that falls apart and tries to put itself back together again.
February 24
Cocaine Bear
This wild thriller finds an oddball group of cops, criminals, tourists and teens converging in a Georgia forest where a 500-pound apex predator has ingested a staggering amount of cocaine and gone on a coke-fueled rampage.
There's still time to catch the big films you may have missed at the end of 2022, as well as those released in January. Enjoy Black Panther: Wakanda Forever, Avatar: The Way of Water, A Man Called Otto, The Fabelmans (which has just won the Golden Globe for Best Film) and Plane, among many others.