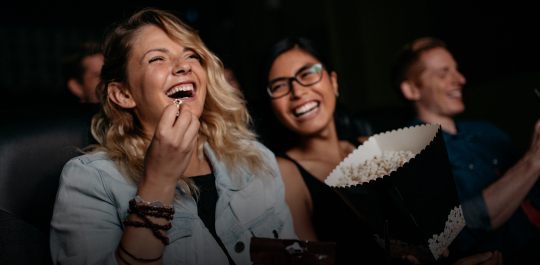 Who's excited for the Oscars this month? We love an awards ceremony – we've already had the Golden Globes and the BAFTAs, and we can't wait for the Oscars on the 12th.
German anti-war epic All Quiet on the Western Front swept the board at the BAFTAs and has become a front-runner for best picture.
Other contenders for the golden statuette include Elvis and Irish black comedy The Banshees of Inisherin, which both scooped four awards at the BAFTAs.
We have all the best films on show here at Festival Place, so why not book your plush reclining seat, put your feet up, and find your own winners?
Here's what to watch this month:
March
Ant-man and the Wasp: Quantumania
Paul Rudd is back as Ant-Man Scott Lang, who journeys into the Quantum Realm with Hope Van Dyne (Evangeline Lily), Hank Pym (Michael Douglas) and Janet Van Dyne (Michelle Pfeiffer).
Puss in Boots: The Last Wish
Our daring outlaw discovers his passion for adventure has taken its toll and sets out to find the Last Wish and restore eight of the nine lives he has already lost.
Magic Mike's Last Dance
Channing Tatum returns for a last fling as magic male stripper Mike Lane, this time heading to London with Salma Hayek.
Avatar: The Way of Water
There's still time to catch another Oscar best film contender – catch up with Jake Sully and his family on the lush alien world of Pandora.
Plane
White-knuckle action movie starring Gerard Butler as pilot Brodie Torrance (Gerard Butler), who saves his passengers from a lightning strike by making a risky landing on a war-torn island.
NEW RELEASES
March 3
Creed III
Adonis Creed (Michael B Jordan) must put his future on the line to fight childhood friend and former boxing prodigy, Damian (Jonathan Majors), who has resurfaced after a long prison sentence in prison and is eager to prove he deserves his shot in the ring.
March 8
Scream VI
Ghostface is BACK! There's a killer double bill screening of the two latest movies in everyone's favourite franchise on March 8 only, with Scream VI then continuing its run.
March 10
Champions
Woody Harrelson stars in the hilarious, heartwarming story of a former minor-league basketball coach who, after a series of missteps, is ordered by the court to manage a team of players with intellectual disabilities.
March 17
65
This wild dinosaur adventure sees an astronaut crash landing on a mysterious planet only to discover he's not alone...
Allelujah
Judi Dench, Jennifer Saunders and Russell Tovey star in this warm and deeply moving story about a geriatric ward in a Yorkshire hospital threatened with closure.
Shazam! Fury of the Gods
When the Daughters of Atlas, a vengeful trio of ancient gods, arrive on Earth in search of the magic stolen from them long ago, Billy - aka Shazam - and his family are thrust into a battle for their superpowers, their lives, and the fate of their world. Starring Zachary Levi, Helen Mirren, Adam Brody and Lucy Liu.
March 24
80 For Brady
Lily Tomlin, Jane Fonda, Sally Field and Rita Moreno star in this comedy inspired by the true story of four best friends who take a wild trip to the 2017 Super Bowl LI to see their hero Tom Brady play.