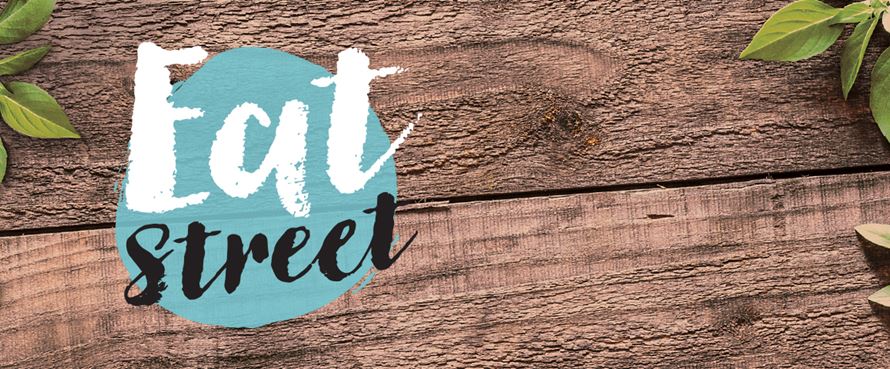 TV food stars look forward to sharing their favourite recipes at Festival Place's Eat Street Extravaganza
Great British Bake-Off winner Candice Brown and Chris Bavin, presenter of Eat Well for Less and author of Good Food: Sorted, will be sharing their passion for cooking at this year's Eat Street festival in Basingstoke.
The TV favourites will be the star attractions on August 10 and 11 as they perform live cooking demonstrations in Festival Place's Porchester Square.
Local producers from Hampshire Fare and Festival Place retailers will also be showcasing their produce and handing out samples.
On Saturday, August 10, Candice Brown – who triumphed in 'Great British Bake Off' 2016 – will be showing shoppers how to create pina colada macaroons and peach melba meringue pie.
"The recipes I'll be cooking come from my book Comfort, but I'll be adapting them to use local and seasonal produce, which I think is so important," says Candice.
"My book is all about comfort and nostalgic foods and bakes, but it's also about not worrying about changing or playing around with recipes. It's great to try new flavours and ideas, especially when things are in season."
As an ambassador for British food, Candice is looking forward to meeting local producers at the Eat Street Festival and finding out more about what's available locally.
"It's so important to support local businesses, producers and farmers, and I think it's great that Festival Place has partnered with Hampshire Fare to champion local produce.
"This is my first visit to Basingstoke, so I'm really looking forward to seeing what the region has to offer produce wise. I love getting ideas from places I visit and taking home local produce to work with.
"I'm also really looking forward to doing the live demos. Baking and chatting are two of my favourite things, so interacting with people and seeing their curiosity is great – I just love it!
"I really want to show everyone that cooking is all about flavour, and not about perfection. Play with ideas and flavours, enjoy what you're doing, and have fun with it. If it looks a bit dodgy, then just eat with your eyes closed!"
TV's Chris Bavin, who presents popular BBC Series 'Eat Well For Less?' and 'Britain in Bloom' as well as judging on 'Britain's Best Home Cook', will be in Porchester Square on Sunday, August 11, demonstrating how to cook rum pineapple with lime mascarpone, and spicy red pepper dip from his new book Good Food.
Chris says he fell in love with cooking when he started selling fresh produce and became aware of all the amazing ingredients available.
"This is not my first time in Basingstoke, but it will be my first time at Festival Place, and I'm really excited about seeing the amazing things the Eat Street Festival has to offer.
"As a former greengrocer and stockist of local produce I love hearing the stories behind the products that passionate artisan producers make."
Chris will be demonstrating the dishes that his family loves and is looking forward to interacting with the Festival Place crowd.
"Having an audience to share my quick, easy and delicious recipes with is lovely. I am passionate about showing people that healthy eating does not need to be boring or expensive, and I love showing people convenient ways to reduce their food waste and get more fruit and veg into their diet.
"The most important thing for me is practicality – I'll be sharing hacks, cheats, hints and tips on getting great results without spending lots of time and money in the kitchen. It's what my book is all about!"
Festival Place's Eat Street event will run on August 10 and 11 from 10am until 3pm and Hampshire Fare producers will be also be showcasing some of the county's best local produce.
The centre's wide range of food and beverage outlets will be joining in the fun, with many handing out free samples from their menus. Retailers taking part include Nando's, Wagamama, Las Iguanas, Festival Street Kitchen, Caffe Nero and Apricot Café.
Throughout the weekend shoppers will have the chance to win a hamper worth £250 filled with goodies from Festival Place. To enter, customers will need to fill in their entry form on the bottom of Candice and Chris' recipe cards and post in the event post boxes, available in Porchester Square over the weekend.