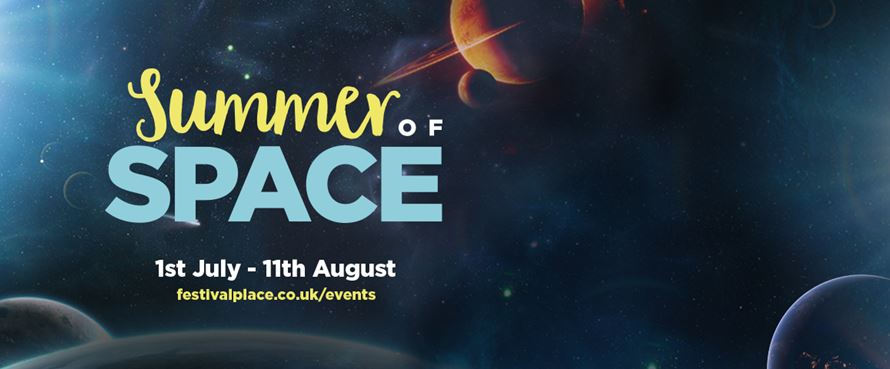 Festival Place looks forward to a stellar line up of events this summer
Things are hotting up at Festival Place in Basingstoke as the retail and leisure destination gets ready for a sizzling summer of fun.
With food festivals, live music, and cosmic space adventures all on the calendar, this summer looks set to be the hottest on record – whatever the weather!
Festival Place's out-of-this-world Summer of Space experience kicked off on July 1, with a host of spectacular space-themed events.
From interactive games and a space projection room to an amazing Virtual Orchestra experience, Festival Place is aiming for the stars when it comes to galactic family fun – there's even a Space School for budding little astronauts! The perfect hang-out, young space cadets can take a leap through space with stories and games, exploring astronomical distances, star gazing – and even sampling real NASA space food!
The Virtual Orchestra experience is a 10-room digital installation, taking visitors on a guided tour of the workings of a professional orchestra and culminating in a rolling performance of Holst's Planet Suite.
Afterwards, families can tackle Space Shifters, an intergalactic version of Twister that sees you twisting and turning through the universe, or head to an out-of-this-world 3D art exhibition that sucks you into the cosmos.
When you've come back down to earth, there's plenty of foodie fun on August 10 and 11 at the famous annual Eat Street extravaganza, when stall holders in Porchester Square will be offering free food samples and Great British Bake Off winner Candice Brown and Eat Well for Less? star Chris Bavin will give live cooking demonstrations.
Festival Place Director Neil Churchill said: "Festival Place is not just a shopping centre – it's a brilliant leisure destination, with everything you need for a fun-filled summer under one roof.
"With a great line-up of superb events – together with our fantastic shops, restaurants and leisure facilities – visiting Festival Place is a great way to ensure families have the best summer ever!"